Embark on a Blissful Journey: 7-Day Bali Yoga Retreat Introduction
Escape the hustle and bustle of everyday life and embark on a transformative journey to Bali, the Island of the Gods. Our 7-day yoga retreat offers an unforgettable blend of relaxation, self-discovery, and adventure. Immerse yourself in the serene beauty of Bali while deepening your yoga practice with daily Asana classes, Pranayama & Meditation, and exciting excursions.
Bali's Natural Paradise
Nestled in the heart of Bali's lush landscapes and nestled along pristine beaches, our retreat location offers the perfect sanctuary for your spiritual journey. With its rich culture, warm hospitality, and breathtaking natural beauty, Bali provides the ideal backdrop for a week of rejuvenation and self-exploration.
Daily Asana Classes
Begin and end each day with the soothing rhythm of yoga. Our experienced instructors will guide you through two daily Asana classes, designed to strengthen your body, increase flexibility, and enhance mindfulness.
Morning Asana: Wake up to a sunrise Asana class that invigorates your body and prepares your mind for the day ahead. Cultivate balance, strength, and inner harmony as you embrace the energy of Bali's mornings.
Evening Asana: Wind down with an evening Asana class set against Bali's tranquil sunset. These sessions focus on relaxation, restoration, and deepening your connection with yourself.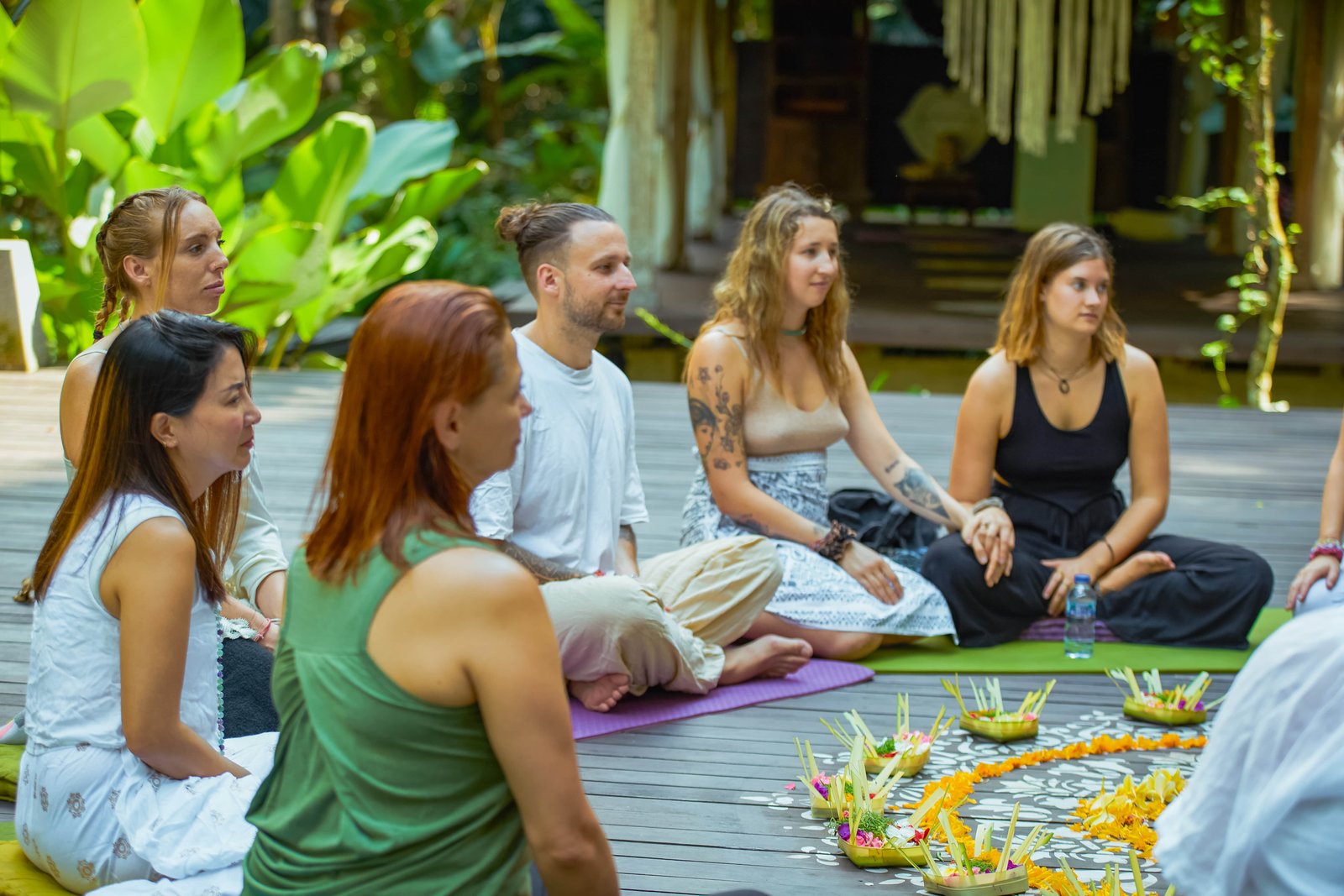 Pranayama & Meditation
In addition to Asana practice, our retreat includes Pranayama (breathing exercises) and Meditation sessions. Explore the transformative power of breath control and mindfulness, helping you find inner peace and balance amidst the beauty of Bali.
Excursions
Our retreat isn't just about yoga; it's also about experiencing the magic of Bali. We've curated exciting excursions that allow you to immerse yourself in the local culture, connect with nature, and create lasting memories.
Explore Sacred Temples: Visit Bali's iconic temples, such as Uluwatu Temple and Tanah Lot, and discover their spiritual significance.
Nature Treks: Hike through lush jungles, explore rice terraces, and experience the tranquility of Bali's natural beauty.
Beach Bliss: Relax on Bali's world-renowned beaches, swim in crystal-clear waters, and rejuvenate under the sun.
7 Day Yoga Retreat Dates & Fee Bali, Indonesia
Dates
Room Type Fee
Book Now
Included in This Package
07 Days Shared/Private Accommodation
3 Yogic Meals Every day
Morning Yoga Session
Pranayama Session
Meditation Theory & Practice Session
Mantra Chanting Session
Course Materials like PDFs prints
Meditation Session on the banks of River Ganga or Waterfall
Outings
Not Included in This Package
Airport transfer
Travel insurance
Visa fee
Flights cost
Additional treatments
Accommodation For This Course
How To Reach Us
Refund Policies at Maharishi Yoga Peeth
Advance payment of course fees is non-refundable. In case of an emergency, Advance fees can be transferable for other Yoga training courses.