Transform Lives with Yoga Therapy
Are you passionate about the healing power of yoga and eager to deepen your understanding of therapeutic applications? Dive into the world of Yoga Therapy at Maharishi Yoga Peeth in Rishikesh, India. Our Yoga Therapy Course is designed to empower you with the knowledge and skills to become a certified yoga therapist, helping individuals on their journey to physical and emotional well-being.
About Maharishi Yoga Peeth
Nestled in the tranquil foothills of the Himalayas, Rishikesh is the revered "Yoga Capital of the World." Maharishi Yoga Peeth is a renowned yoga and Ayurveda school dedicated to preserving and sharing the ancient wisdom of yoga and its therapeutic aspects.
Why Choose Our Yoga Therapy Course
Comprehensive Curriculum: Our Yoga Therapy Course is a comprehensive program that combines traditional yoga practices with therapeutic techniques. You'll gain a deep understanding of anatomy, physiology, and the therapeutic effects of yoga.
Experienced Instructors: Learn from highly qualified and experienced yoga therapists who are committed to guiding you on your journey to becoming a proficient yoga therapist.
Certification: Upon successful completion of the course, you will receive a globally recognized certification in yoga therapy, allowing you to practice and teach yoga therapy professionally.
Practical Experience: Practical training is a key component of our program. You'll have the opportunity to work with clients, gaining hands-on experience in designing personalized therapeutic yoga programs.
Holistic Approach: Our course covers a wide range of therapeutic areas, including yoga for stress management, pain relief, mental health, and chronic conditions. This holistic approach ensures you are well-prepared to address various client needs.
Yoga Therapy Course Dates & Fee Rishikesh, India
Dates
Room Type Fee
Book Now
Inclusions Of Yoga Teacher Training Course Fee
Affordable residential Certified Yoga Therapy Course in Rishikesh, India from yoga alliance
3 Organic Vegetarian Meals
Private/Shared Room with Attached Bath
Sightseeing / Excursions on Sundays
Yoga bag, Yoga mat, Notebook, and T-shirt
Syllabus For This Course
Maharishi Yoga Peeth Teacher Training Courses in Rishikesh will help you begin your journey and career in the glorious field of yoga. With our various courses and programs, you can learn a lot about it in a short period of time. The syllabus of yoga in Rishikesh is maintained in such a way that every topic gets covered theoretically and practically. All the important topics are covered in our well-maintained syllabus and schedule.
The six purificatory techniques. Before commencing pranayama, any imbalance in the dosas (Vata, Pitta, Kapha) should be removed/balances. In Hatha Yoga there are six particular practices which were specifically designed for this purpose. They are called Shatkarma.
Jal Neti (Nasal cleaning)
Sutra Neti (Nasal cleaning with a catheter for intense nasal block)
Agnisara Kriya (For Digestive fire)
Kapalbhati Kriya
Tratka
'Pranasya Ayamah Iti Pranayama'- Expansion of breath is Pranayama. In our teachers training course students learn various breathing techniques which will not only help overcome stress, anxiety, fatigue but also revitalizes the body, improves blood circulation and concentration. Since breath is the bridge between the body and the mind, establishing this bridge is one of the key techniques for successful meditation.
Introduction of Pranayama
Four aspects of Pranayama
Koshas
Types of breathing
Shat Karma and Asht Kumbhakas
Kapalbhati (frontal brain cleansing)
Nadi Shodan Pranayama
Surya Bheda Pranayama (vitality stimulating breath)
Ujjayi Pranayama ( The Psychic Breath)
Bhastrika Pranayama ( Bellows Breath)
Seetkari Pranayama ( Hissing Breath)
Sheetali Pranayama
Bhramari Pranayama ( Humming Bee Breath)
At Namami we have incorporated in our Yoga Teachers Training Courses, the study of Ayurveda which is one of the world's oldest holistic healing systems. How health and wellness depend on a delicate balance between the mind, body, and soul which resulted to promote good health. To Understand the five basic elements of the Universe and how it is connected to the humans in the form of Life Forces or Energies. We will guide you to enhance your lifestyle with a little change in your habits and daily routine by adding Ayurveda and its properties.
History of Ayurveda
Trigunas & Tridoshas
13 Agni Types of Ayurveda
13 Srotas Types of Ayurveda
Saptadhatu
Nadis & Nadi Pariksha
Daily routine of Ayurveda
The word haṭha means force and thus alludes to a system of physical techniques. it is associated with the practice of various traditional asanas including their benefits, modifications, contraindications, along with the use of props.
Tadasana
Tiryaka Tadasana
Vrikshasana
Utkatasana
Katichakrasana
Virabhadrasana I
Trikonasana
Ardha Chandrasana
Virabhadrasana II
Parsvakonasana
Virabhadrasana III
Padahastasana
Garudasana
Natrajasana
Bakasana
Sukhasana
Padmasana
Swastikasana
Agnistambhasana
Dandasana
Paschimottanasana
Purvottanasana
Janushirsasana
Vajrasana
Mandukasna
Uttan Mandukasana
Supta Vajrasana
Vakrasana
Gaumukhasana
Ushtrasana
Balasana
Parvatasana
Simhagarjanasana
Marjariasana
Naukasana
Saral Bhujangasana
Bhujangasana
Viprit Naukasana
Dhanurasana
Uttanpadasana
Sarvangasana
Viparitkarni
Halasana
Karnapidasana
Pavanmuktasana
Matsyasana
Setubandhasana
Chakrasana
Shirshasana
Shavasana
Meditation is a practice where an individual uses various techniques to train attention and awareness inwards, to achieve mentally clear and emotionally calm and stable state which would enable one to reach higher state of consciousness.
Introduction of Meditation
Techniques of Meditation
Breathing Meditation (Stage I,II,III)
Third Eye (Stage I,II,III)
AUM Meditation (Stage I,II)
Sound Meditation
Trataka Meditation
Anatomy and Physiology of yogic practices with benefits and contraindications of asanas and pranayama for various disorders in the body.
Introduction to Anatomy and Physiology
Human Anatomy Planes
Systems of Human Body
Skeletal Systems
Muscular Systems
Respiratory Systems
Digestive Systems
Basics of Shoulder Anatomy
Spine Anatomy
Human Nervous Systems
Pelvic Anatomy
Muscles of Hip
Traditional philosophy, concepts and history of yoga and insights from modern research and ways in which the essence of this holistic life-view can be integrated into a modern lifestyle.
Introduction to Philosophy
Schools of Indian Philosophies
What is Yoga
Raja Yoga
Karma Yoga
Bhakti Yoga
Gnana Yoga
Kriya Yoga
Gunas
Patanjali Yoga Sutras - Samadhi Pada
Students will take turns practicing their teaching skills by performing in front of their peers and teachers.
Demonstration
Alignment
Instructions
A teacher should efficiently perform the practical applications of class planning and preparation. At Namami, our students will learn how to create a positive and peaceful class environment for an enjoyable and transformative experience.
Positive andamp; conscious communication.
Friendship and trust.
Time management
Qualities of a teacher
Principles of demonstrating, observation, assisting, correcting.
Use of voice in class
Mental andamp; emotional preparation for teaching.
Class preparation
Step by step class structure planning.
The purpose of mantra chanting is to generate positive vibrations and connect with the universe. Each mantra is special and rich with spiritual energy.
Aum Namah Shivaya
Ganapati Mantram
Guru Mantram #1 and #2
Gayatri Mantram
Shanti Mantram #1 and #2
Maha Mrityunjaya Mantram
Aum Asato Ma Sadgamaya
Aum Purnamadah Purnamidam
Patanjali Slokam
Ashtanga Opening Mantra
Ashtanga closing Mantra
Schedule For This Course
The yoga training begins on 3rd of every month with a welcoming ceremony and dinner and finishes on every 21st with graduation ceremony. Airport transfer is included and you will receive all details after booking. We will try our best to help you with any travel arrangements you may need.
The nearest airport is Jolly Grant Airport in Dehradun. Transfers from Dehradun airport are included in the course.
06:30 AM - 07:00 AM
Kryas And Guided Pranayama
07:00 AM - 08:30 AM
Morning Alternating Practice
08:30 AM - 09:00 AM
Asana Practice
09:00 AM - 09:45 AM
Breakfast
09:45 AM - 12:30 PM
Session 1
12:30 PM - 14:00 PM
Lunch
14:00 PM - 15:55 PM
Session 2
16:05 PM - 18:00 PM
Session 3
18:00 PM - 19:30 PM
Dinner
19:30 PM - 20:30 PM
Bhakti, Kirtan, Philosophy & Special Events
20:30 PM - 21:00 PM
Evening Guided Meditation
Who Can Join
Our Yoga Therapy Course is open to yoga teachers, healthcare professionals, and anyone with a strong passion for yoga and healing. Whether you're looking to expand your skills as a yoga teacher or embark on a new career path as a yoga therapist, this course is suitable for you.
Enroll Today
Empower yourself with the transformative knowledge and skills of yoga therapy. Join Maharishi Yoga Peeth's Yoga Therapy Course in Rishikesh and embark on a fulfilling journey of healing and helping others achieve optimum health and well-being.
Contact us today to learn more about course dates, fees, and enrollment details. Start your journey towards becoming a certified yoga therapist at Maharishi Yoga Peeth.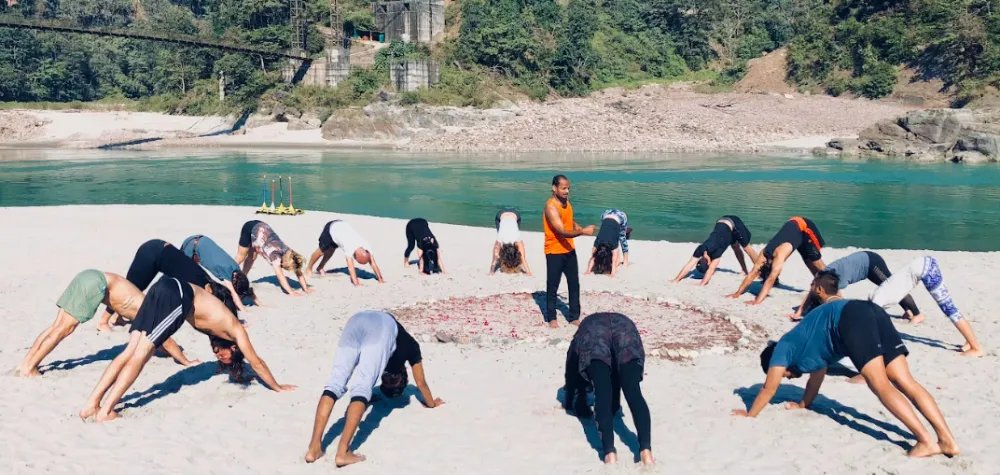 Disclaimer
Yoga Therapy is not a replacement for medical treatment. Please consult with your healthcare provider before beginning any Yoga Therapy program, especially if you have pre-existing medical conditions.
Accommodation For This Course
Food For This Course
How To Reach Us
Books May Help During This Course
Frequently Asked Question
Yoga Therapy Course in Rishikesh, India can qualify you to become a Yoga Teacher. A registered yoga school from yoga alliance gives you a credential to teach professionally worldwide.
Yoga Therapy Course is meant for beginners, You can join this course as a beginner but we recommend to our students to have at least 6 month self practice experience. So you can get maximum benefits of this course.
The Yoga Therapy Course is beginner level yoga training course. In order to obtain advance level yoga teacher training of 500 hours of YTTC one has to complete 300 hours YTTC after completion of 100 Hours YTTC.
The costs can vary but can be in the region of 1200 Euro to 1600 Euro, depending upon the type of accommodation, facility, meals you choose.
Yoga school primarily offer pure vegetarian food however we can cater for special diets such as vegan and gluten free ones upon prior notice.
Refund Policies at Maharishi Yoga Peeth
Advance payment of course fees is non-refundable. In case of an emergency, Advance fees can be transferable for other Yoga training courses.